Minister of Culture Visits Coral Center on Zlarin: "It's brilliantly designed"
10. June 2023.
Minister of Culture and Media, Nina Obuljen Koržinek, visited the Croatian Coral Center on Zlarin on Saturday. Accompanied by Ana Perišić Mijić, the Cabinet Secretary, and representatives of the Fortress of Culture Šibenik, which manages the Coral Center, the minister toured the Kažerma House, where an innovative exhibition tells the story of the centuries-old tradition of coral harvesting, and the Šare House, which houses socializing areas and accommodation facilities.
"Unfortunately, we couldn't attend the opening, but I'm glad we could visit the Center today, which is truly brilliantly designed. Congratulations to everyone who had the idea to apply for EU funding for such a project and to the architects, designers, and everyone involved in creating the content. It is very interesting because it combines the story of the island and island life, linked to what historically nourished the people of Zlarin, which is coral harvesting. The exhibition is diverse and captivating, offering a wide range of tactile and audiovisual content, so it can hold visitors' attention for a long time," said the minister.
She added that she hopes the residents of Zlarin, first and foremost, will gain a new space for gathering and that the Center will strengthen the community's pride and self-confidence.
"Of course, the Center will attract many visitors, and around it, new projects related to the story of coral will develop, attracting new people. I wholeheartedly congratulate everyone," concluded Minister Nina Obuljen Koržinek after touring the Coral Center.
The tour was led by Katarina Gregov, the center's director.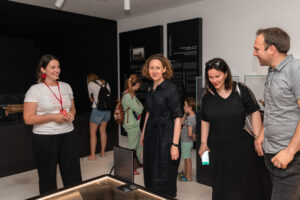 The Fortress of Culture, which manages the Coral Center, organized a rich and diverse program for the second consecutive weekend on Zlarin, following the recent opening of the Center. The program included workshops, children's performances, kayak tours, and bicycles available for visitors to use free of charge. On Saturday and Sunday, guided tours of the Coral Center were also organized, and there was an opportunity to join the Friends Club, which offers free admission to the Šibenik fortresses and discounted concert tickets.
It is worth noting that the Coral Center in Zlarin was officially opened on June 1 in the presence of the Minister of Regional Development and EU Funds, Šime Erlić, representatives of the City of Šibenik, the Fortress of Culture, which took over the management of the center, and numerous distinguished guests. With the opening of the Center, the story of coral harvesting, the most significant cultural heritage and the greatest uniqueness of the island of Zlarin, is now told in one place. In the first weekend after the opening, more than 800 visitors explored the Center!
The Croatian Coral Center is open on weekdays and weekends from 9 am to 9 pm.
You can follow the latest news about the Croatian Coral Center in Zlarin on the official Center's website and on Instagram and Facebook profiles.